Regular price
Sale price
$45.00 USD
Unit price
per
Sale
Sold out
For posters and prints that are 20x30" size and landscape (horizontal) orientation, we recommend using 31" Hanger Frames. These poster hanging rails are great for hanging tapestries, scarves, paintings, and printed art. We have a variety of wood stains and sizes available.
How to Choose Size

Measure the horizontal width of your print (the vertical length does not matter). We recommend the Hanger Frame to be 1 inch longer than the width of your print. It does not have to be exact, as seen in these pictures. It just depends on the amount of wood overhang you want.




Magnet Warning & Disclaimers

Our product contains extremely strong magnets, please handle carefully and keep away from kids and pets at all times.

This type of frame offers no protection to your art and is not recommended for fragile, expensive, or irreplaceable art. We are not responsible for any damage or injuries that may occur.

Due to natural wood variations, finished stained wood color can vary. Some pieces may come with typical wood characteristics such as knots, streaks, and rough spots.
Free Shipping

FREE SHIPPING in the USA for orders $25+!

Handling Time:

Hanger Frames products, please allow up to two business days for your order to be shipped out (but we work hard to get most orders shipped out same day).
Blank Canvas products ship same business day when received by 12:00 PM MST

Shipping Time:

Standard Economy shipping is 2-5 Business Days (we use both USPS First Class and UPS Ground). Upgraded shipping service is available at checkout.
Returns & Exchanges

We accept returns on Hanger Frames and Blank Canvases within 30 days from purchase. Product must be in original condition. Customer is responsible for return shipping. You can package your order back in its original shipping box or you can find a new one. Please email us to let us know you are sending us a return. We will email you our return address with additional instructions. Once we receive your return, we will process your refund (except for any return shipping costs) within 7 business days.


Package Includes

Each set includes four sticks, two that clamp the top of the print/art and two that clamp the bottom. Strong neodymium magnets are embedded into each stick, which securely grip your artwork, but allow you to easily change out the art whenever you want. Your Hanger Frames delivery will include three string options for you to choose from: faux leather cord, brown jute twine, and white cotton twine.

This item is for the HANGER FRAME only. Art prints not included.
Product Guarantee

We guarantee that our magnetic Hanger Frames will securely grip any paper or fabric that is a single layer and thin enough to be flexible. Our neodymium magnets are strong enough to hold photo paper, cardstock, canvas, woven fabric, etc. It may not be able to hold thick rigid boards or multi-layer fabrics*. If you experience trouble assembling your Hanger Frames, please reach out to us. We will help you out!

*Please check out quilthangers.com
View full details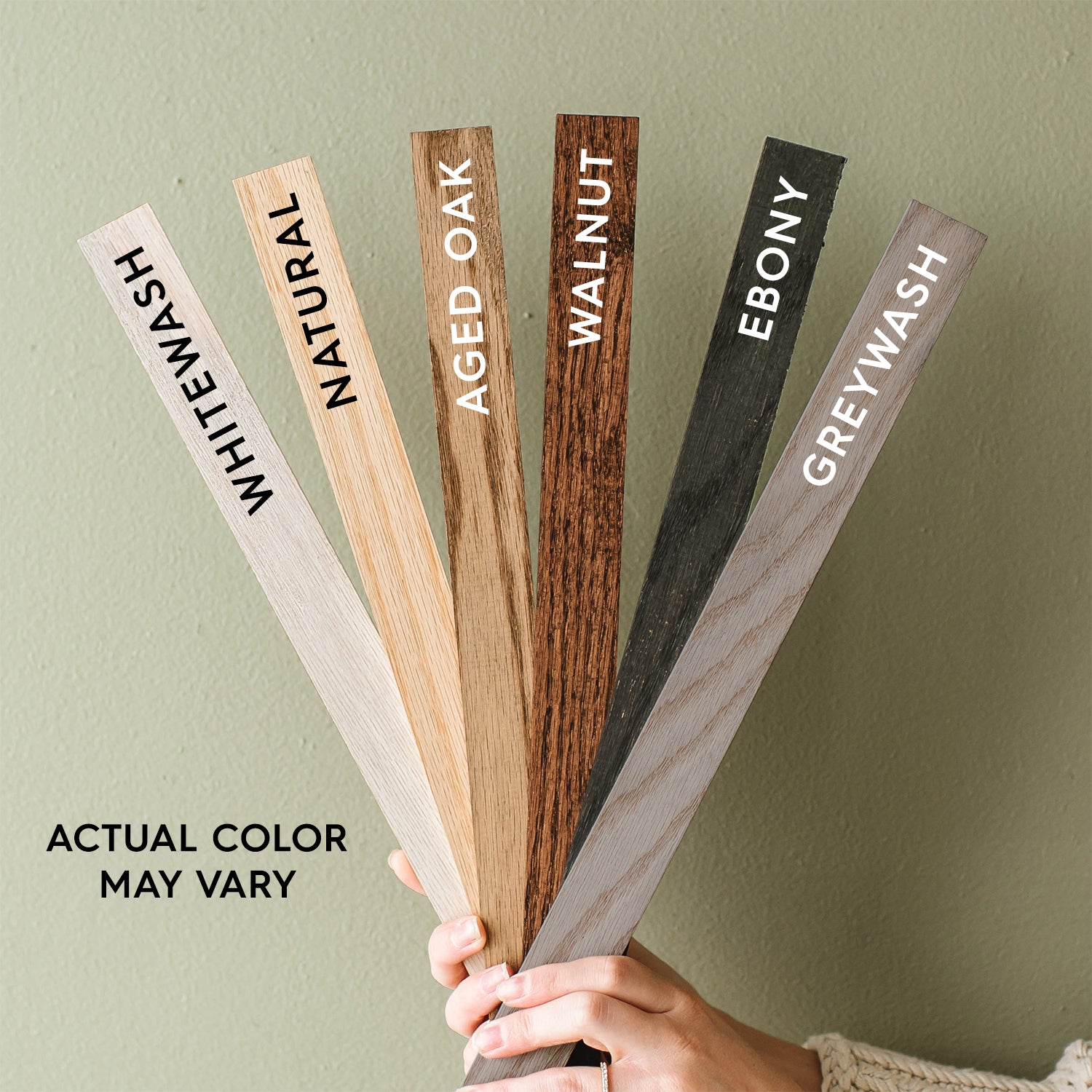 Beautiful Stained Oak Wood
We use non-toxic environmentally friendly wood stains with a matte finish. Choose the best Hanger Frames to complement your print or the one that best fits in with your room decor style.
Available Stain Colors
Natural

Light golden hues with warm undertones

Aged Oak

Medium brown tones with darker grain

Walnut

Darker brown with slight red undertones

Whitewash

Rustic sheer white with warm undertones

Greywash

Weathered gray with warm & cool undertones

Ebony

Charcoal black with warm undertones
Frequently Asked Questions
What does each frame include?

2 Top Wood Pieces With Embedded Magnets and String Holes
2 Bottom Wood Pieces With Embedded Magnets
1 Faux Leather Cord
1 Brown Jute Twine
1 White Cotton Cord
1 Nail
Instructions
How does it work?

Choose your favorite string to thread through the top frame and double knot at your desired length. Then sandwich your print in between the magnetic Hanger Frames. SNAP! The magnets will grip onto the top and bottom edge of the print. Each order will also include detailed instructions.
What size should I order?

Measure the horizontal width of your print (the vertical length does not matter). We recommend choosing a Hanger Frame that is 1 inch longer than the width of your print. It does not have to be exact – it can be a few inches longer or the same exact size. It just depends on the amount of overhang you desire. We recommend our most popular sizes that are marked with a ★.
How many magnets do the frames have?

Smaller sizes have 2 magnets per stick. Medium sizes have 4 magnets per stick. Long sizes have 6 magnets per stick. We use extra strong 1/2" wide neodymium magnets that are embedded into each wooden stick.
How wide/thick is each piece?

Smaller sticks are 1" tall. Larger sticks are 1.25" tall. Each wood stick is 5/16" thick.
Can it hold a _______?

We guarantee that our magnetic Hanger Frames will hold onto any kind of paper or fabric that is one layer thick and flexible. It can hold cardstock and thick canvas. It cannot hold thick rigid boards or multi-layer fabrics (but check out Quilt Hangers if you have something thick or large).
How long will it take to arrive?

You will see processing times at checkout. You can upgrade to faster shipping.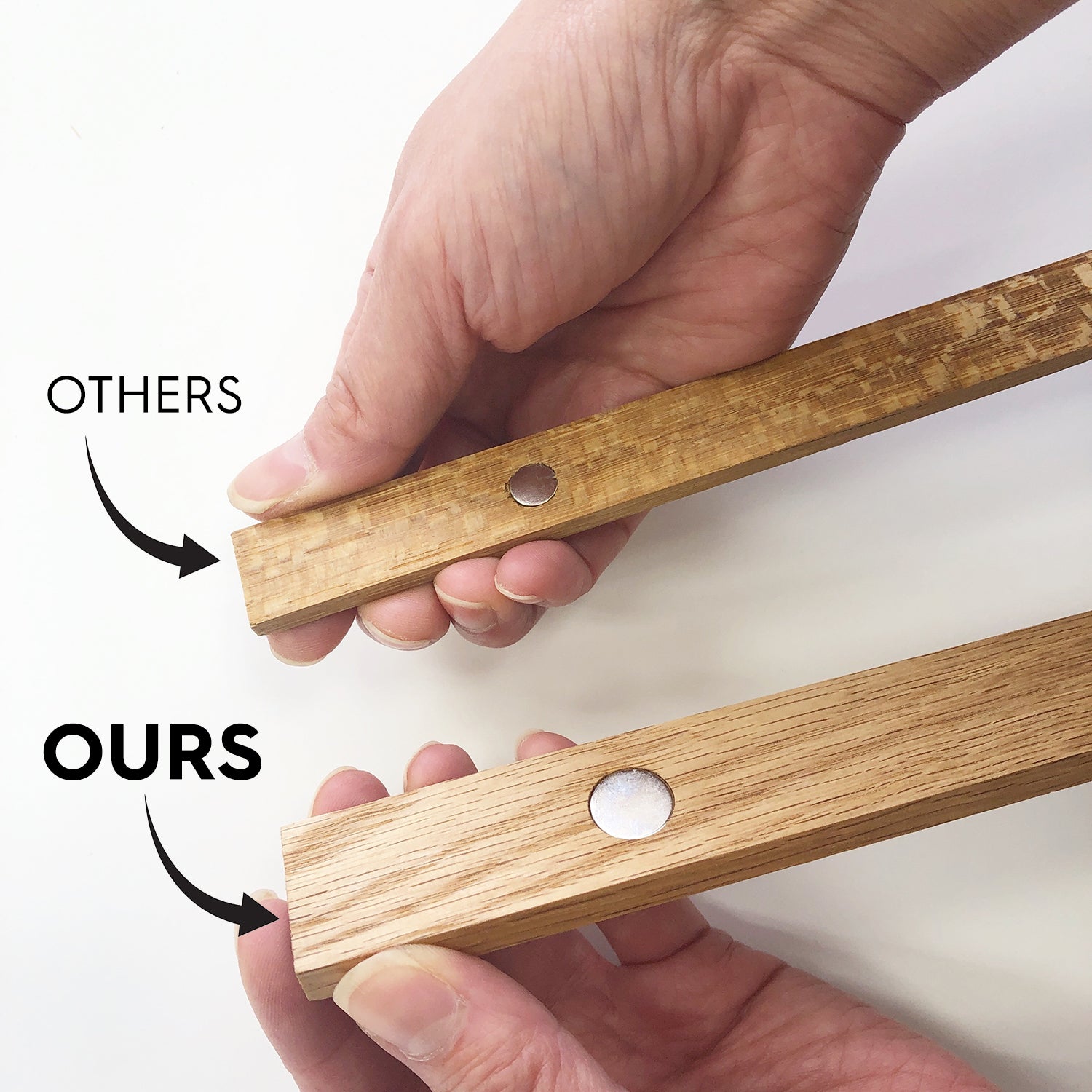 We are the Original Hanger Frames™
Our Hanger Frames vs Other Imitations
Larger, stronger neodymium magnets
Guaranteed to hold your print
Thicker, sturdier solid hardwood
Beautiful oak wood grain
Choose from 6 stain colors
Your order will include three string options
Made sustainably and responsibly in the USA
Made with Quality
Tons of Sizes

6 Stain Colors

3 Strings Included

Strong Magnets

Sustainably Sourced

Quick Process

Free Shipping

Made in the USA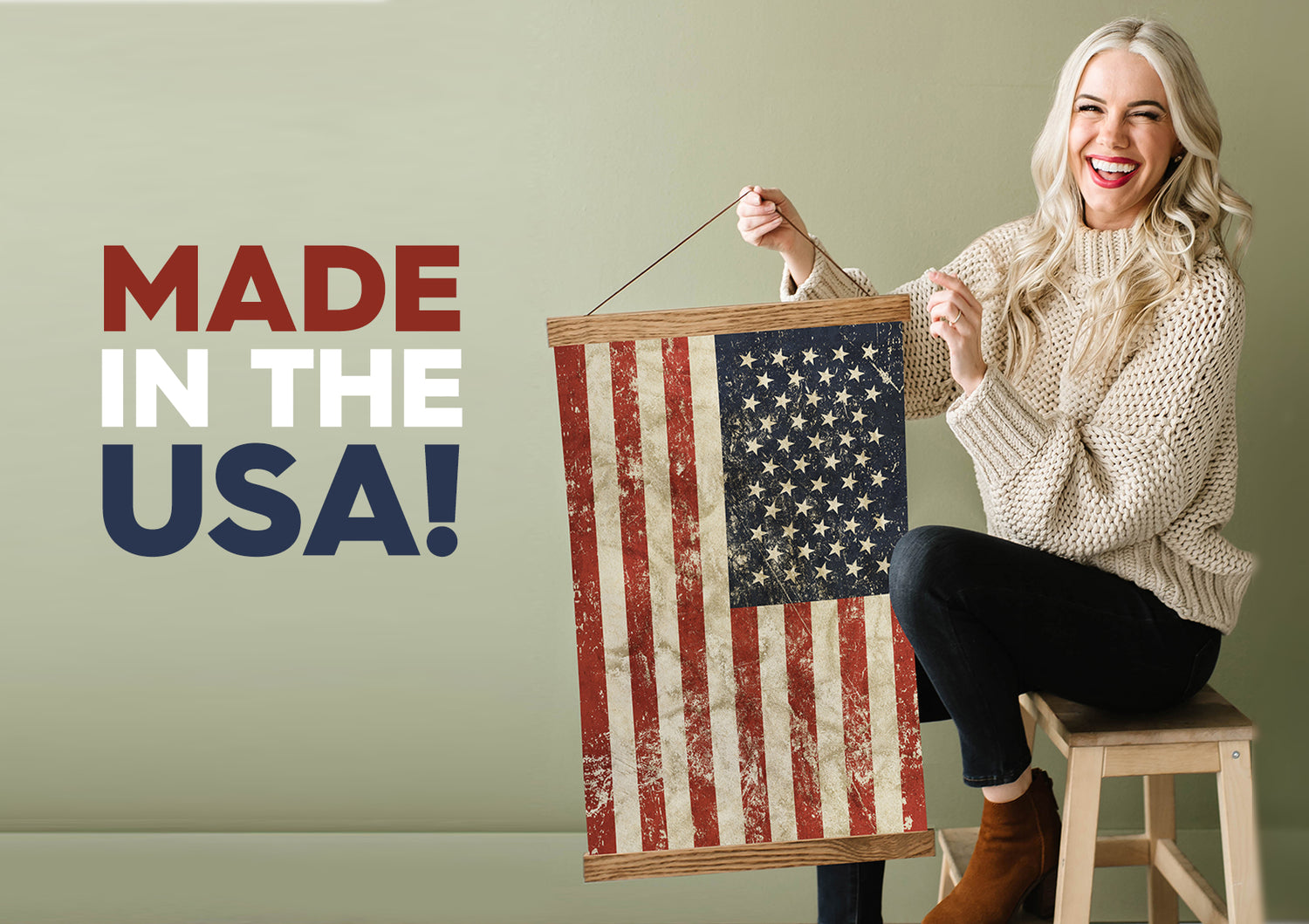 American Made
We source sustainably grown American oak hardwood and we manufacture every Hanger Frame here in our Utah wood shop facility. Our small team works hard to make a quality product and provide you with great customer service!
Choose Frame Based on Standard Print Sizes
Looking for XL Frames?
Our Hanger Frames have magnets for hanging thin materials like posters and canvas up to 49" wide. If you're looking for special Hanger Frames that can hold larger and thicker items, check out our sister shop Quilt Hangers that uses special screw fasteners instead of magnets.
Shop Quilt Hangers